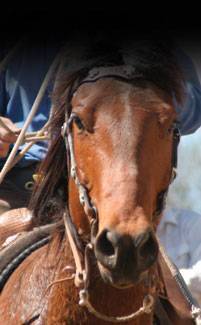 Gale and Cynthia Haynes
Office: (970) 854-3310
Cell: (970) 520-3374
61284 CR 14 • Holyoke, CO 80734
Bull Development

At Haynes Cattle Co. we take bull development very seriously! It has to be done right! Overfed purchased bulls was a major factor in our decision to breed our own bulls. Granted, it takes disciple to not over fatten bulls. We'd all like the 1300 to 1400 lb. yearling weights. Again it takes discipline. That extra 150 to 200 lbs. can be robbing him of longevity in the herd. Most cattle producers will agree that too much fat on the young heifer deposited in the udder will diminish her milk production, thus reducing her value in your herd. The same is true in the yearling bull with excess fat deposited around the testicles. That's when the bulls have to be brought down off the hotter ration while waiting to reevaluate the semen that didn't pass the first time.

Everyone can make mistakes. At Haynes Cattle Co., we decided that if we err, we will err on the side of too little feed, not too much feed. With many years and dollars invested in superior genetics, why would we do it any other way? So, our bulls, being developed on native grass pastures of at least 1/4 section in size, are fed a total mixed ration free choice. Much of the corn that would have been in a traditional ration has been replaced with wet distillers

grain, thus reducing some over fattening problems. Other supplements include trace mineral packages that insure proper
growth, muscle, bone
and reproductive development.

Facts About HCC Bulls
- Registered herd is the result of 100% AI & 30% ET
- Bulls are developed slowly and in large pastures
- No creep feed
- Bulls are sired by high accuracy, proven trait leaders
- Low birth, high growth, moderate framed bulls
- Yearling bulls available for lease or sale




Haynes Cattle Co. bulls are developed for a lifetime of usefulness, rather than a "one day" sale event.